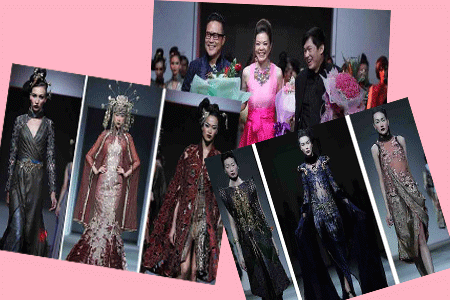 Inspired by the richness and uniqueness of the Peranakan culture, the three designers who are members of the Association of Indonesian Fashion Designers & Entrepreneurs (APPMI), which is Jeanny Ang, Deden Siswanto, and Rudy Chandra, held a fashion show themed "Beauty Treasure". This sparked show their admiration for the harmony of the mixing of cultures of Indonesia and China.
"The idea was created when we went to the Peranakan Museum in Singapore. We see that Indonesia has a large influence on the development of the Peranakan culture," said Jeanny Ang, during a press conference "Beauty Treasure" at the Hotel Mulia Senayan, Jakarta, Thursday (14/06 / 2012) ago. The ideas they embodied in a fashion that elevates the influence of the Peranakan clothing for the modern style of dress.
Actually, all three of these designers have different interpretations in translating the Peranakan culture. In the fashion show , they present a hybrid fashion collection that is packed from the point of view, style , and their specialties.
"Not only that, we also have versions of their stories about the Peranakan culture, which is presented in a series of interrelated stories, and describe the stages of human life," said Deden Siswanto. One common design, presented by the three designers were seen in the use of embroidery to emphasize the characteristics Tionghoanya.
A cheerful young
fashion show opened with a collection of Jeanny Ang who attended the fashion choice of bright colors such as pink, blue, yellow, green, and orange. This collection is intended for young people. "This dress was inspired by the lantern festival in Chinese culture, which symbolizes hope in love, a better human relationships, relationships with nature, fortune, and hope the quality of life," said Jeanny.
Excitement and positive energy in this expectation is expressed in stylish dresses feminine and romantic. It displays 25 sets of clothes that are divided into three sessions. The first session featuring seven mini dress ; past nine Peranakan kebaya in the second session, and nine in the third session of evening dresses.
Three sessions are presented by Jeanny combines many sleeveless tops, short sleeved tops are combined with a mini skirt volume, until the pencil skirt. Asymmetrical long skirt style is also evident in his collection. He was also a lot of presenting a collection of long evening dresses with body shape and silhouette accented mermaid at the bottom.
To highlight the character design is pretty and feminine, it is widely used application forms flower embroidery to produce three-dimensional effect. The material chosen for the majority of clothing is specially printed fabric that has the same motif on both sides. Some other materials used include tulle, organza, silk, and silk satin .
The dark side of the Peranakan
If Jeanny much about the beauty and joy of the Peranakan culture, Deden Siswanto choose to bring the dark side of this culture. "In the process, the process of assimilation had a dark side, mysterious, and often clashed with the traditions and customs of local communities," said Deden.
This inspiring series of stories he made the love story between two people from two different cultural background. To bring this dark and mysterious side, Deden many dark colors applied in 25 sets of clothing of men and women. Colors used were brown, dark blue, gold, gray, red and black. Clothing is presented describing the things that break tradition, such as the use of silhouette and asymmetrical patterns.
Deden much use of the technique of layering such as digital printing, hand painting , and steaming on the fashion to describe the impression of edgy but still feminine. This technique is used to produce fabrics with a dimensional silhouette effect and further highlight the texture of the applications it uses.
A distinctive feature is the use Deden a very detailed application. He gave an additional touch of embroidery with sequins and beads to give an elegant three-dimensional effect. To produce lightweight clothing that he used material such as batik, organza, suede, and voil.
Cheongsam rich detail
"I was inspired a lot of kebaya encim ceramic carvings and ornaments in China. So I present it in a collection of Peranakan much this time, both in texture and color," explains Rudy Chandra. Rudy presents 25 pieces of clothing that is simple, feminine, and elegant, to highlight the charisma mature woman, mature, and confident.
He displays a collection of many cheongsam-style dress, cocktail, and evening dress with a silhouette that follows the curves. Too much clothing consisting of a skirt A-line, pencil skirt , and a long dress with a silhouette of a mermaid . Pleated technique is also widely applied in the collection of cheongsam. "Cheongsam is displayed in a more modern style with the addition of embroidered laser cut , "he said.
Rudy-shaped design of many applications applying ornaments using a technique of the embroidery motif Kerancang using laser cut . In the last segment he displays a wedding dress made ​​of songket cloth. Wedding dress of songket is combined with a stylish accessory Betawi and Chinese.
Materials selected include jacquard , silk chiffon, silk organza, lasem batik, brocade, and taffeta, in colors like red copper, golden brown, gold, and blue.
_________________
indah pada waktuNYa



miracle




Jumlah posting

: 367


Join date

: 2010-03-30




---
Permissions in this forum:
You
cannot
reply to topics in this forum